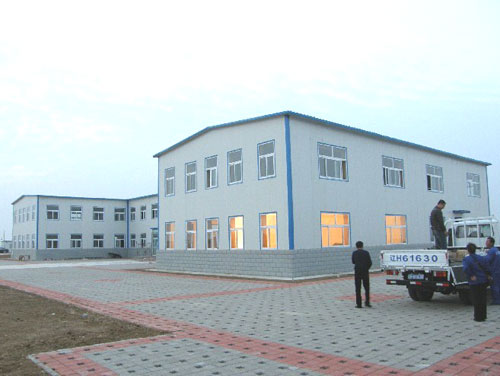 Introduction
Features
Specification
Photos
Application
Luxury prefab house is a high-grade type demountable products, the product is the use of light steel structure as the load-bearing floor basis, making full use of the strength of the sandwich panel and the roof panel, through effective connection system consisting of the housing system. Modular design of the prefab house, more flexible layout, more clean and beautiful indoor and outdoor, sealed and sound insulation performance is better.
Luxury prefab house can be widely used in the construction site, the government resettlement housing and various types of commercial activities, such as temporary housing areas.
Notes:
1、 After the complete installation of prefab house, the users are not allowed to change the structure, cannot remove any bolts, increase or reduce the partition wall. If need to change the structure, need to with consultation agreement of factory.
2、 Prefab house using steel structure connect together, the users fix up electrical lighting equipment, the wires can not be directly tie on steel structure, should be set with line pipe, wood or trough isolation installation, to avoid electric shock.
3、 Light steel structure maintenance paint once should be in 1-2 year, especially the ground steel, to extend the life of the product and keep beautiful.
Clean and beautiful indoor and outdoor----there is no "C" type steel column and adjusting yoke, more clean and beautiful appearance.
Thermal insulation, heat insulation performance----wall panel with modular connection, with good sealing performance and noise insulation, heat insulation performance.
Flexible layout----multiple modular combination, any interior space layout, Flexible adjustment for door and window position.

Convenient storage and transport----few types of components, convenient for storage, high transport efficiency, a 40HQ container can load about 300 square meter flat roof of T-type house.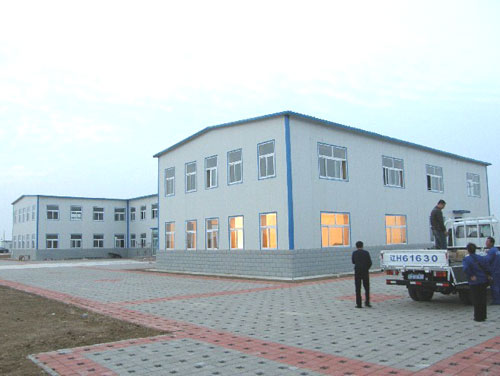 Standard Layout
Office Layout
Meeting Room Layout
Dormitory Layout